!!! Please use Firefox or Opera Browsers (NOT! Internet explorer) for complete and correct display !!!
MACHINE TO MAKE BRIQUETTE OUT OF GREEN BIOMASS
GREEN BIOMASS BRIQUETTE MAKING MACHINE is designed to make briquette from green biomass, such as waste tree, bushes, weed, etc. The shredder might be required to reduce the size of biomass before feeding into the briquetting machine. Please see the machine and briquette from green biomass below.
Photos of Samples of biomass (Pineapple peel, Longan, Grass, etc) for fuel use purpose. Please note that the briquette is quite hard.

More information can also be found in following webpage.
http://www.charcoal.snmcenter.com/charcoalthai/Green%20Fuel%20Briquette.php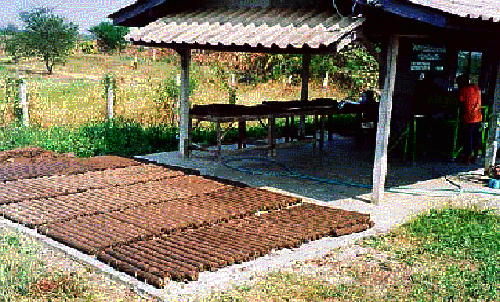 DIFFERENT TYPES OF SAMPLES
TEST VIDEO
IF YOU NEED MORE INFORMATION, PLEASE CONTACT US OUR E-MAIL ADDRESS BELOW:
This e-mail address is being protected from spambots. You need JavaScript enabled to view it
---
BIOMASS INFORMATION
Table : Chemical analysis of biomasses
Proximate analysis

Rice husk

Rice stalk

Bagasse

Sugarcane stalk

Rubber wood

Palm fiber

Palm shell

Moisture %

12.0

10.0

50.7

9.2

45.0

38.5

12.0

Ash %

12.7

10.4

1.4

6.1

1.6

4.4

3.5

Volatile matter %

56.5

60.7

42.9

67.8

45.7

42.7

68.2

Fixed Carbon %

18.9

18.9

5.9

16.9

7.7

14.4

16.3

Ultimate Analysis

 

Carbon %

37.5

38.2

21.3

41.6

25.6

30.8

44.4

Hydrogen %

4.4

5.0

3.1

5.1

3.2

3.7

5.0

Oxygen %

33.3

35.3

23.3

37.4

24.5

21.6

34.7

Nitrogen %

0.17

0.58

0.12

0.40

0.14

0.84

0.28

Sulfur %

0.04

0.09

0.03

0.17

0.01

0.11

0.02

Chlorine %

0.09

na

na

0.01

0.01

0.11

0.02

Ash %

12.7

10.4

1.43

6.1

1.6

4.4

3.5

Moisture %

12.0

10.0

50.7

9.2

45.0

38.5

12.0

Other characteristics

 

Bulk Density, kg/m3

150

125

120

100

450

250

400

Higher heating value, kJ/kg

14,755

13,650

9,243

16,794

10,365

13,127

18,267

Lower heating value, kJ/kg

13,517

12,330

7,368

15,479

8,600

11,400

16,900
Proximate analysis

EFB (Palm)

Palm trunk

Palm leaves

Corn cob

Corn stalk

Cassava root stock

Eucalyptus bark

Moisture %

58.6

48.4

78.4

40.0

41.7

59.4

60.0

Ash %

2.1

1.2

0.7

0.9

3.7

1.5

2.4

Volatile matter %

30.5

38.7

16.3

45.4

46.5

31.0

28.0

Fixed Carbon %

8.9

11.7

4.6

13.7

8.1

8.1

9.6

Ultimate Analysis

 

Carbon %

21.2

23.9

10.1

28.2

27.8

18.8

18.6

Hydrogen %

2.56

3.04

1.25

2.26

4.06

2.48

2.12

Oxygen %

15.4

22.9

9.4

27.4

22.5

17.5

16.7

Nitrogen %

0.27

0.56

0.07

0.12

0.13

0.32

0.15

Sulfur %

0.04

0.06

0.02

0.03

na

0.04

0.02

Chlorine %

0.16

na

0.12

0.05

na

0.05

0.10

Ash %

2.03

1.20

0.70

0.90

3.70

1.50

2.44

Moisture %

58.6

48.4

78.4

40.0

41.7

59.4

60.0

Other characteristics

 

Bulk Density, kg/m3

380

na

na

na

na

250

na

Higher heating value, kJ/kg

9,196

9,370

3,908

11,298

11,704

7,451

6,811

Lower heating value, kJ/kg

7,240

7,556

1,760

9,615

9,830

5,494

4,917
*Referred from Biomass book (Biomass Clearing House and Energy for Thailand Environment foundation)